Monday - Friday
8:00 am to 9:30 pm

Saturday & Sunday
8:30 am to 3:00 pm
Email Mcleod Veterinary Hospital
Schedule Appointment with McLeod Veterinary Hospital
Like us on Facebook
Read reviews or write your own of
your experience at McLeod Vet Hospital.


Notice: Open 7 days a week.
New Friday hours 8:00am-6:00pm, starting July 1st.
Welcome
to McLeod Veterinary Hospital. McLeod Veterinary Hospital was established in 1982, in Winnipeg Manitoba, by Dr. Bob Newfield. Since that time, our facility has been continually evolving to provide you with the most up to date equipment and techniques. As our patients cannot speak for themselves, client/doctor communication is essential. The purpose of this website is to enable our clients to familiarize themselves with our services and policies. Our mission at McLeod Veterinary Hospital is to provide the best possible health care in a professional and compassionate manner.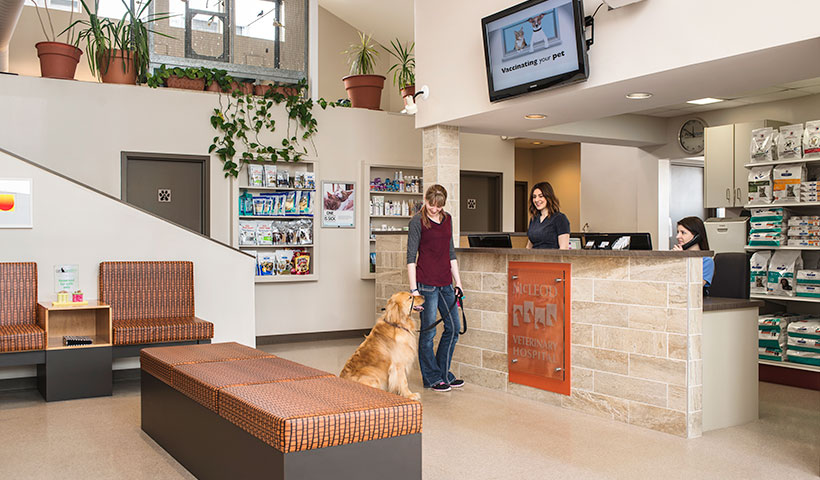 Taking the Pet Out of Petrified!
We are a Fear Free Animal Hospital
(Learn More)
Visits to the veterinarian are often stressful for pets and their caregivers. At McLeod Veterinary Hospital, we have been working hard to reduce the stress put on our patients and during their visits. Members of our veterinary team have recently completed a Fear Free Certification Program. This program has trained staff in the recognition and reduction of fear, anxiety, and stress in patients. You may have noticed a few changes over recent months in our hospital. We have purchased synthetic pheromone diffusers which mimic the natural, happy pheromones of dogs and cats. These diffusers are located in various areas throughout the hospital and work to present a positive environment for our patients. We feed a lot of treats here! Dogs and cats are often food driven. Giving food and treats throughout procedures can effectively reduce fear, stress, and anxiety. Thundershirts are now used commonly in our daily practice. They are applied to patients experiencing stress in the clinic environment. Thundershirts are wrapped around the body focusing on certain pressure points to relieve anxiety. Along with our attempts to ease your pet's stress, there are a number of ways that you can help as well.
Pets should come to appointments hungry, owners may bring a favorite treat to be given throughout exam/procedure.
Small pets should be placed in a hard sided carrier with a towel/blanket.
Carriers should be covered with a light towel/blanket to prevent visualization of other animals, unfamiliar people and surroundings.
Pheromone sprays may be used on towels/blankets inside and covering carriers.
When travelling to the veterinary hospital, play quiet, calming music, or leave the radio off. Keep the vehicle at a comfortable temperature.
When arriving in exam room, allow pets to come out of carriers on their own. If pets will not walk out of carrier, lid may be removed.
Owners may allow pets to remain in carrier throughout exam when possible.
For more information on creating a stress free experience for your pet contact the team at McLeod Veterinary Hospital.
(Close Article)
Meet Beauty
Beauty is a 2 year old female cat. Beauty is currently in foster care through Manitoba Mutts Dog Rescue.
(Meet Beauty)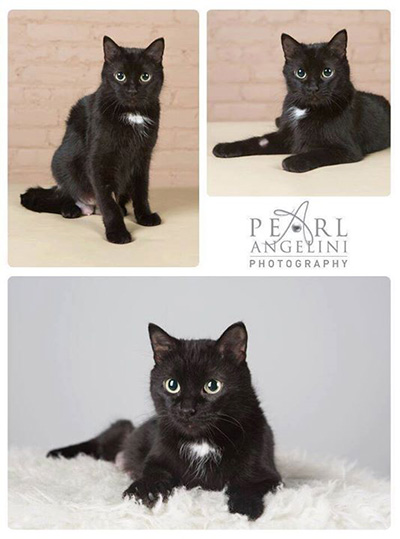 For more information about Beauty and the other pets available for adoption through Manitoba Mutts Dog Rescue visit their website at www.manitobamutts.org or contact them at
(Close Article)
Cat Stressed?
Learn how to reduce your cat's stress upon visits to McLeod Veterinary Hospital.
(Learn More)
Cats are very accustomed to the temperature, smell and comfort of their homes; taking them out of their safe environment can be very stressful. Thankfully, there are ways to help your cat relax and make for a more pleasant visit.
1. Transport your cat in a hard-plastic carrier, with a removable top
Removable tops will make getting your cat into-and out of-the carrier much easier. Undo the screws or latches and remove the top. This eliminates the need to force your cat in and out, which will make you and your cat more relaxed.
2. Keep the carrier in the living room or bedroom
When cats see their carriers as a safe place, they're much more comfortable during transportation. Follow these tips:
Leave the carrier in a comfortable and easily accessible part of the house.
Keep a nice blanket or towel in the carrier.
Periodically place treats and favourite toys in the carrier.
One week prior to travel feed a few meals in the carrier.
3. Spray the blanket within the carrier with Feliway 15 minutes prior to travel.
Feliway is a synthetic pheromone that emulates the natural facial pheromone that cats release to mark their territory as safe and familiar; similar to when they rub their face on an object when they're happy. When Feliway is sprayed in their carrier they associate it as a happy, comfortable environment.
4. "Start the car"!!!
Your cat is acclimatized to the temperature in your house. During the winter and summer the temperature in your car will be much cooler or warmer. Start your car and let it run for a period of time to 'warm up' or 'cool down' to a much more comfortable temperature.
5. Buckle up
Cat carriers have a handle-don't use it. Carry your cat's carrier by the sides or the bottom to reduce swinging and motion. Cats are sensitive to motion. Being carried in the carrier and the car ride can often be a bumpy ride. Make sure the carrier is level in the car. Placing a rolled towel under one side of the carrier on the car seat may help level things out. Buckle the carrier in to prevent sliding or worse, falling off the seat. Don't play loud music. Cats may not share your choice of music. Soft, classical music is relaxing for us and for our pets. Consider a soft, calming choice of music during the drive.
6. Drop in for some 'happy visits'
If your cat shows signs of stress during travel, take your cat for short drives around the block. We often don't take our cats anywhere other than to the vet. Car rides shouldn't always end in a nail trim or needle. Reduce the association that a car ride results in a stressful situation, such as a visit to the vet. Even better, bring your cat for a visit…just to visit! A visit to the vet could just involve a neck scratch and a treat, something positive and pleasant for a nice change.
7. Don't feed your cat prior to a vet visit
If your cat is hungry, we can offer canned food or treats to make the experience more pleasant. If your cat is picky bring some of their own treats or food from home. Cats can be very distracted from thermometers and injections if they're hungry and eating a yummy snack.
8. Pre-medicating
If your cat suffers from significant stress, call us and we can dispense a prescription medication to reduce your cat's anxiety prior to veterinary visits. We still recommend all of the above measures to help reduce your cat's stress in addition to medication.
(Close Article)