Monday - Thursday
8:00 am to 9:30 pm

Friday
8:00 am to 6:00 pm

Saturday & Sunday
8:30 am to 3:00 pm
Email Mcleod Veterinary Hospital
Schedule Appointment with McLeod Veterinary Hospital
Like us on Facebook
Read reviews or write your own of
your experience at McLeod Vet Hospital.


Notice: Open 7 days a week.
Notice: McLeod Veterinary Hospital hosts regular Canadian Animal Blood Bank (CABB) donor clinics. For information about upcoming donation dates and to find out if your pet is an eligible donor, contact us at 204-661-3334 or visit www.canadiananimalbloodbank.ca
Surgery
When surgery is performed on your pet, it is done using full sterile technique. A fully qualified veterinary technologist assists the veterinarian and monitors the patient throughout the surgical procedure. Heart rate, blood pressure and oxygen are monitored by specialized equipment throughout the surgery. All anesthetic procedures are preceded with administration of an intravenous fluid line. This optimizes anesthetic safety and allows us to administer any medications that might be required during the anesthetic process. We view intravenous catheter in all major and minor surgical procedures as vital.
Your pet will receive pain relief prior to and post surgically and will be monitored for pain during the recovery process. If more pain relief is necessary it will be administered. We take pain management and the comfort of your pet very seriously. Prior to an anesthetic procedure, your veterinarian may recommend pre-surgical blood screening and other diagnostic measures to ensure anesthetic safety is maximized.
Laser Surgery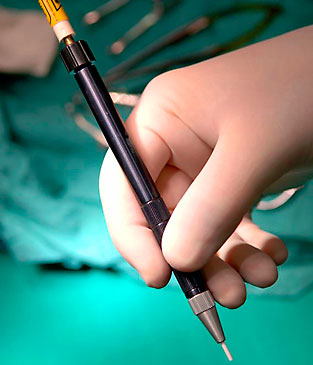 In many procedures, the laser can replace the scalpel and provide a better alternative to traditional surgery. We are pleased to offer this unique and safe advancement in many of our surgical treatments.

Laser surgery seals nerve endings as it moves through tissue. Your pet feels less pain post-operatively. The laser also seals small blood vessels during surgery, which allows your doctor to perform surgeries with extraordinary precision and may reduce surgical and anesthetic time. Laser energy does not crush, tear or bruise, because only a beam of intense light contacts the tissue. The laser sterilizes as it removes diseased tissue, killing bacteria that may cause infection.