Monday - Thursday
8:00 am to 9:30 pm

Friday
8:00 am to 6:00 pm

Saturday & Sunday
8:30 am to 3:00 pm
Email Mcleod Veterinary Hospital
Schedule Appointment with McLeod Veterinary Hospital
Like us on Facebook
Read reviews or write your own of
your experience at McLeod Vet Hospital.


Notice: Open 7 days a week.
New Friday hours 8:00am-6:00pm, starting July 1st.
Welcome
to McLeod Veterinary Hospital. McLeod Veterinary Hospital was established in 1982, in Winnipeg Manitoba, by Dr. Bob Newfield. Since that time, our facility has been continually evolving to provide you with the most up to date equipment and techniques. As our patients cannot speak for themselves, client/doctor communication is essential. The purpose of this website is to enable our clients to familiarize themselves with our services and policies. Our mission at McLeod Veterinary Hospital is to provide the best possible health care in a professional and compassionate manner.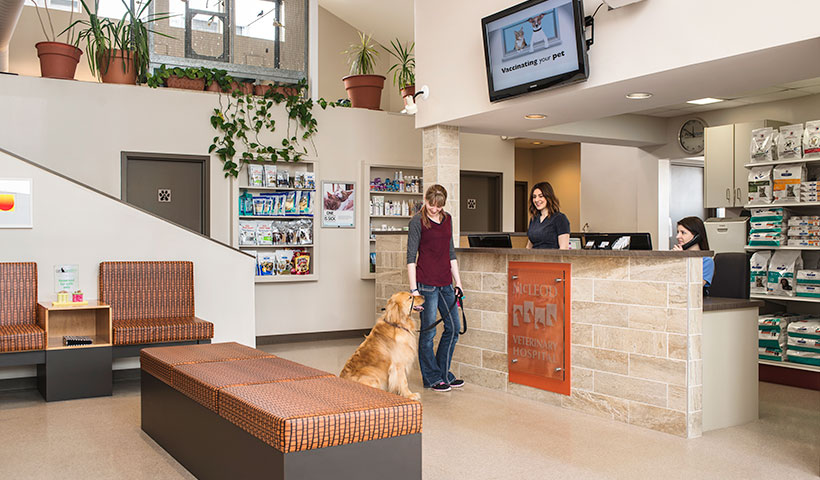 What's New?
Staff Spotlight
Dr. Jason Kellsey
(Learn More)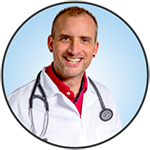 Dr. Jason Kellsey joined the McLeod Veterinary Hospital team following his graduation from the Western College of Veterinary Medicine in 2008. Prior to his career in veterinary medicine, Dr. Kellsey spent a number of years working in Civil Engineering. Dr. Kellsey has a special interest in soft tissue surgery, ultrasonography, and senior wellness management. Dr. Kellsey spends his spare time with his family, which includes a dog, Maverick, and 2 cats; Tia and Squeak.
(Close Article)
Anesthesia-Free Dental Cleanings
There has been a lot of controversy recently in regards to anesthesia free dental care for pets.
(Learn More)
This practice involves scaling, or scraping the plaque and tartar off of a pet's teeth while they are awake. Many would see this as a great, drug-free alternative to the traditional anesthetic procedure typically performed in veterinary practices.
A veterinarian can get a general idea of immediate oral concerns during a routine physical exam on a cooperative pet. It is impossible however, to provide a thorough examination of your pet's mouth without general anesthesia. Most pets experience a certain level of discomfort/stress associated with the restraint required to perform an anesthesia free cleaning. For this reason, most pets will not sit still enough to risk placing a sharp dental instrument in their mouth. The bacteria present beneath the gum line results in periodontal disease and are not removable on an awake pet. Anesthesia free cleaning will only allow removal of the plaque and tartar that are visible and serves no benefit to your pet's health. Bacteria left below the gum line will continue to contribute to bad breath, infection of the gums, and damage to the tooth roots and bone structure.
General anesthesia allows the veterinarian to provide you with a detailed examination of your pet's teeth and oral cavity. Your pet's mouth can be properly charted and each tooth individually inspected for problems. Dental radiographs can provide your veterinarian with an image of the extent of disease present beneath the gum line and cannot be done on an awake pet. Your pet's teeth can then be scaled above and below the gum line on all sides. Polishing all exposed areas of the teeth will provide a nice smooth surface to discourage new bacterial build-up.
The team at McLeod Veterinary Hospital is dedicated to providing your pet with the best care possible. Contact us with any questions you may have regarding your pet's dental health.
(Close Article)
Canadian Veterinary Medical Association
What is the CVMA?
(Learn More)
The Canadian Veterinary Medical Association (CVMA) is the voice of Canada's veterinarians. This organization provides leadership and advocacy for the veterinary profession. The CVMA strives to promote animal welfare and provide the highest quality care for animal, people, and the environment.
For more information visit Canadian Veterinary Medical Association
(Close Article)
Canine Influenza
Should I be concerned?
(Learn More)
In late December 2017, the first known case of H3N2 canine influenza was identified in Ontario from dogs imported from Asia.
There are two strains of canine influenza virus that have been reported in North America. H3N2 originated in Asia likely from an avian influenza. H3N8 was initially seen in Florida early in the 2000s and came from an equine strain.
Canine influenza is transmitted by direct nose-to-nose contact, from droplet exposure of the virus in the air, and from contact with objects that have been in contact with infected dogs. The highest risk of transmission is from nose-to-nose contact. Dogs without symptoms but that are in the early phases of infection can shed the virus and infect other dogs.
Canine influenza is part of the infections grouped under the umbrella term "canine infectious respiratory disease complex" which also includes "kennel cough". Symptoms can include sneezing, coughing, nose and eye discharge, a decrease in appetite, and possibly a fever. Most dogs make a full recovery in 2 to 3 weeks. It is rare for these infections to be fatal. Some dogs can develop a bacterial pneumonia, which is more serious. Very young and very old dogs and brachycephalic breeds (such as pugs and bulldogs) are most susceptible to more severe infections.
There have currently been no reports of canine influenza in Manitoba. Families with dogs exhibiting symptoms similar to those of canine influenza should contact their veterinarian.
(Close Article)
Essential Oils
Cat owners, beware!
(Learn More)
Recently there have been several websites discussing the risk of essential oils in cats.
Essential oils should never be applied directly to a cat's skin or in a location where they can be ingested. Particular types of essential oils that are known to be toxic to cats include: oils of wintergreen, sweet birch, citrus, pine, Ylang Ylang, peppermint, cinnamon, pennyroyal, clove, eucalyptus, and tea tree oil.
Cats with exposure to these oils may drool, vomit, have tremors, breathing difficulties, liver failure, and a decrease in heart rate and body temperature.
If essential oils are used in a diffuser, they may be irritating to the airways of cats, particularly if the cat has allergies, asthma, or respiratory infections. Cats in close proximity to diffusers can get micro droplets of essential oil on their coat which may be ingested during grooming or absorbed through the skin.
(Close Article)
Those Suckers are Back!
Things to do to ensure your pet stays healthy this summer.
(Learn More)
Mosquitoes and wood ticks will be back soon! This means that heartworm and Lyme testing is in full swing. Luckily, a simple blood test run in hospital can determine if your dog has been infected with either of these diseases. Your dog relies on you to provide them with the necessary tools to prevent and monitor for heartworm and Lyme disease. At McLeod Veterinary Hospital we can help you choose the product best suited for your furry friend. Contact your pet's health care team today to discuss prevention and schedule heartworm and Lyme disease testing.
Heartworm disease is an infectious disease spread by mosquitoes. Infected animals may not immediately show any clinical signs but, as the burden of adult worms becomes more severe, the signs become apparent. Symptoms include exercise intolerance, weight loss, coughing, fainting, progressing to congestive heart failure and eventually death, if left untreated.
Lyme disease is on the rise in Manitoba. Lyme disease is an infectious disease spread by ticks. The symptoms of Lyme disease include fever, lameness, joint pain and swelling, and kidney damage. Lyme disease may eventually result in death if left untreated.
In 2017 McLeod Veterinary Hospital ran 527 blood tests for heartworm and tick-borne diseases. Of these tests, 2 were heartworm positive and 15 were positive for tick-borne diseases (9 Lyme positives).
(Close Article)