Monday - Thursday
8:00 am to 9:30 pm

Friday
8:00 am to 6:00 pm

Saturday & Sunday
8:30 am to 3:00 pm
Email Mcleod Veterinary Hospital
Schedule Appointment with McLeod Veterinary Hospital
Like us on Facebook
Read reviews or write your own of
your experience at McLeod Vet Hospital.


Notice: Open 7 days a week.
Notice: McLeod Veterinary Hospital hosts regular Canadian Animal Blood Bank (CABB) donor clinics. For information about upcoming donation dates and to find out if your pet is an eligible donor, contact us at 204-661-3334 or visit www.canadiananimalbloodbank.ca
Welcome
to McLeod Veterinary Hospital. McLeod Veterinary Hospital was established in 1982, in Winnipeg Manitoba, by Dr. Bob Newfield. Since that time, our facility has been continually evolving to provide you with the most up to date equipment and techniques. As our patients cannot speak for themselves, client/doctor communication is essential. The purpose of this website is to enable our clients to familiarize themselves with our services and policies. Our mission at McLeod Veterinary Hospital is to provide the best possible health care in a professional and compassionate manner.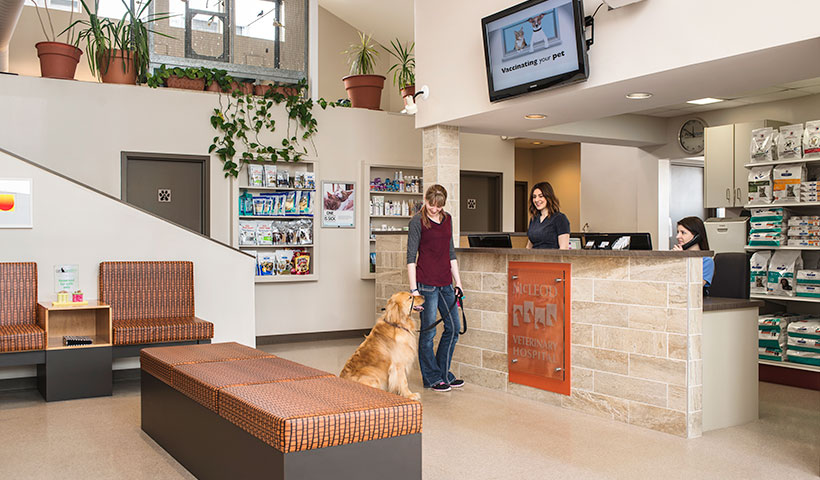 What's New?
Staff Spotlight
Cindy Sontag
(Learn More)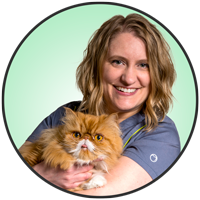 Cindy Sontag has been employed by McLeod Veterinary Hospital since graduation from the Veterinary Technician program at Red River College in 2002. In recent years, Cindy returned to Red River College to complete the Management Development program. As Hospital Manager, Cindy not only performs regular technician duties, but also ensures that our facility runs as smoothly as possible. Cindy is the current Past-President of the Manitoba Veterinary Technologists Association and sits on the national RVT association (RVTTC) board of directors.
Cindy shares her home with a Persian cat named Oscar. In her spare time, she enjoys travelling, camping, and cheering on the Winnipeg Jets!
(Close Article)
Raw Food: The Science
Raw food diet – it is an increasing pet food trend, but what do we know about it?
(Learn More)
It started out as a common sled dog feeding method due to its ease of transportation and little preparation. It was introduced to house pets in the early 90's, promoted as a natural feeding method. The trend has rapidly made its way to many pet owners through media channels. Raw food is now readily available in most pet stores and has become a convenient purchase. As veterinary professionals it is our responsibility to educate you in every aspect of your beloved pets health, including proper nutrition. As of today, there have been no published studies in favor of feeding raw food but there have been many studies outlining the risks. So, what are the risks?
High Bateria Levels
In 2018, 35 commercial raw diets were directly tested resulting in 80% positive for E. coli, 54% Listeria and 20% Salmonella.
Frozen raw food still tested positive for E. Coli (64%).
There has been a link of antimicrobial resistance when feeding a raw food diet. (antibiotics may not work)
Environmental Contamination
A small published study tested the feces of dogs on a raw food diet and found 30% tested positive for Salmonella.
In 2017 Calgary had a public health investigation of two children with salmonellosis. These children had a dog that was fed a raw food diet. The same bacteria affecting the children was found in the food.
A study testing cleaning methods of food bowls holding Salmonella containing raw food showed that even with the highest level of cleaning (soap scrub and bleach soak) there was still 33% of stainless steel bowls testing positive for Salmonella. 50% of the plastic bowls tested positive.
Cleaning protocols are very important when feeding a raw food diet, it is recommended to not place the food bowls in a dishwasher as this doesn't sanitize and could result in contamination of your own dishes.
Unbalanced Diet
Out of 95 homemade raw diets tested, 60% were unbalanced.
Development of nutritional hyperparathyroidism has been documented in dogs fed a raw diet. Switching the dogs to a commercial (non-raw) diet resolved them to normal health status.
Due to the lack of studies supporting the benefits of raw food diets and looking at the scientific evidence that is available, the risks seem to outweigh the benefits. We can only recommend a nutritionally balanced diet that's safe for your pets and family. We are happy to work alongside you in finding the best diet for your pets' health and your lifestyle. Together we can create a healthy lifestyle for our furry loved ones.
(Close Article)
Laser Therapy
McLeod Veterinary Hospital is pleased to announce that we will now be offering laser therapy to our patients!
(Learn More)
Laser therapy is a non-invasive treatment to reduce pain and inflammation, increase circulation, and increase healing. A laser beam is passed across the affected area, producing a small amount of heat while being absorbed by the tissues and cells. Laser therapy causes no discomfort to pets during treatment and is indicated for a variety of conditions including (but not limited to);
Arthritis
Wound Healing
Skin Conditions
Soft Tissue Trauma
Post-surgery
Some conditions require multiple and/or routine treatments to achieve the desired goal, although many may experience relief of symptoms immediately or within the first 24 hours following treatment.
For more information about laser therapy and its benefits for your pet, contact our hospital at 204-661-3334
(Close Article)
Nexgard and Bravecto
Should I be concerned about this flea/tick medication?
(Learn More)
There have been some recent concerns brought forth from the media regarding certain types of flea/tick medications including Nexgard and Bravecto.
There have been no changes to these products. Seizure activity has always been noted as a possible adverse reaction, with a very minimal incidence rate.
To date, our hospital has not seen any seizure activity as an adverse reaction from Nexgard or Bravecto. This class of medications is still safe and we continue to recommend them to treat/prevent ticks and fleas.
Deer ticks are prevalent at this time of year, so flea/tick prevention is recommended for dogs at risk.
(Close Article)