Monday - Thursday
8:00 am to 9:30 pm

Friday
8:00 am to 6:00 pm

Saturday & Sunday
8:30 am to 3:00 pm
Email Mcleod Veterinary Hospital
Schedule Appointment with McLeod Veterinary Hospital
Like us on Facebook
Read reviews or write your own of
your experience at McLeod Vet Hospital.


Notice: Open 7 days a week.
Notice: McLeod Veterinary Hospital hosts regular Canadian Animal Blood Bank (CABB) donor clinics. For information about upcoming donation dates and to find out if your pet is an eligible donor, contact us at 204-661-3334 or visit www.canadiananimalbloodbank.ca
Welcome
to McLeod Veterinary Hospital. McLeod Veterinary Hospital was established in 1982, in Winnipeg Manitoba, by Dr. Bob Newfield. Since that time, our facility has been continually evolving to provide you with the most up to date equipment and techniques. As our patients cannot speak for themselves, client/doctor communication is essential. The purpose of this website is to enable our clients to familiarize themselves with our services and policies. Our mission at McLeod Veterinary Hospital is to provide the best possible health care in a professional and compassionate manner.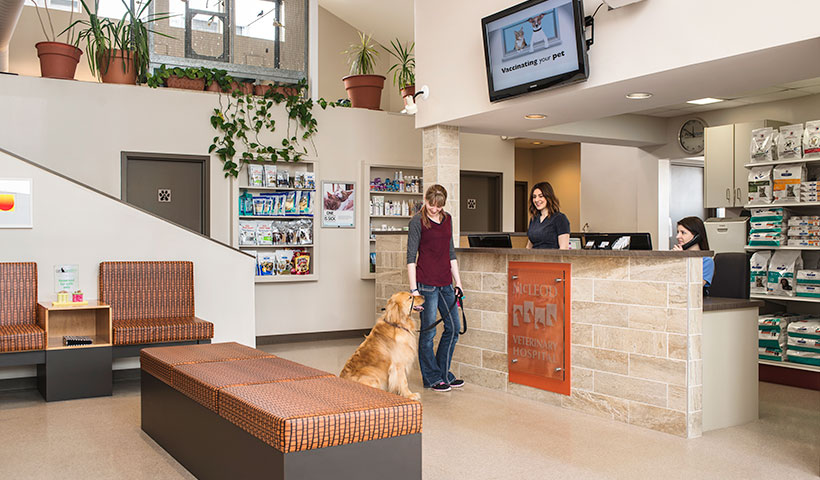 What's New?
Staff Spotlight
Cindy Sontag
(Learn More)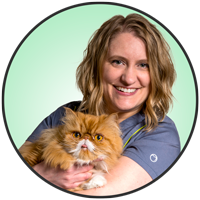 Cindy Sontag has been employed by McLeod Veterinary Hospital since graduation from the Veterinary Technician program at Red River College in 2002. In recent years, Cindy returned to Red River College to complete the Management Development program. As Hospital Manager, Cindy not only performs regular technician duties, but also ensures that our facility runs as smoothly as possible. Cindy is the current Past-President of the Manitoba Veterinary Technologists Association and sits on the national RVT association (RVTTC) board of directors.
Cindy shares her home with a Persian cat named Oscar. In her spare time, she enjoys travelling, camping, and cheering on the Winnipeg Jets!
(Close Article)
Vicinity Points
Changes to our rewards points program
(Learn More)
For the past several years we have offered a "thank you" for your patronage by providing a rewards points program, FiveStars (previously Vicinity). This company has recently increased their fees by over 200%. We have made the difficult decision to end this program, as it has become cost prohibitive with the sudden increase in fees.
We understand that we have an obligation to you, our clients, and will honor the points that you have accumulated. We do not wish to end this program abruptly and as such the last day to collect points is Tuesday, June 18, 2019. All points accumulated prior to this date will continue to be honored.
(Close Article)
Nexgard Spectra
We are proud to introduce Nexgard Spectra!
(Learn More)
Nexgard Spectra combines heartworm, flea, and tick protection in a convenient once-monthly beef flavored chew. These tasty chews are easily administered and safe for dogs with beef allergies as they contain no meat.
Nexgard Spectra is indicated for the treatment and control of internal parasites such as; hookworm, roundworm, whipworm, and lungworm, as well as the prevention of heartworm disease.
Nexgard Spectra also provides rapid treatment of adult fleas and control of future infestations.
Treatment with Nexgard Spectra can begin at any time of year and can safely be given without food, at any time of day. Treatment can start as early as 8 weeks of age and has been proven safe for various breeds of dogs.
Contact McLeod Veterinary Hospital today for more information about heartworm, flea, and tick prevention for your canine friend.
(Close Article)
Adventure Time!
Outdoor ideas for you and your pets.
(Learn More)
With the sun beaming down and the grass turning green, it's time to take the fun outdoors once again! Winter can seem like it never ends for our furry companions and they're just as excited as we are for warm summer months. Here are some fun outdoor activities to share with your dog that will keep you both active and allow you to reap the benefits of the beautiful weather
Hiking – Go for a hike on one of the many trails Manitoba has to offer. Hiking is a great way for your dog to explore new scenery, allowing them to exercise body and mind. Trails such as Spirit Sands, Pinawa Trail, and Falcon Creek Trail are dog friendly and make for a great adventure.
Biking – Winnipeg offers many paved trails within city limits that are perfect for biking. For first-timers, it is important that you first ease your dog into biking as it can take some time for them to understand your expectations of them and establish a reasonable, steady pace. Check out www.winnipegtrails.ca for a list of bike paths in our city.
Patios – More and more restaurants in Winnipeg are welcoming dogs onto the patio during the summer months. Forth Café, Little Brown Jug, and Chaeban Ice Cream are just to name a few. If you have a special place in mind, call ahead to see if your furry friend would be a welcomed companion.
Local Events – During the summer months, there are many dog-friendly fundraising walks. You and your dog could get some exercise, soak in the sun, and help support a local cause.
Go to www.winnipeghumanesociety.ca for a list of upcoming events and visit the McLeod Veterinary Team booth at Paws for a Cause on Saturday, September 28, 2019!
(Close Article)