Monday - Thursday
8:00 am to 9:30 pm

Friday
8:00 am to 6:00 pm

Saturday & Sunday
8:30 am to 3:00 pm
Email Mcleod Veterinary Hospital
Schedule Appointment with McLeod Veterinary Hospital
Like us on Facebook
Read reviews or write your own of
your experience at McLeod Vet Hospital.


Notice: Open 7 days a week.
New Friday hours 8:00am-6:00pm, starting July 1st.
Welcome
to McLeod Veterinary Hospital. McLeod Veterinary Hospital was established in 1982, in Winnipeg Manitoba, by Dr. Bob Newfield. Since that time, our facility has been continually evolving to provide you with the most up to date equipment and techniques. As our patients cannot speak for themselves, client/doctor communication is essential. The purpose of this website is to enable our clients to familiarize themselves with our services and policies. Our mission at McLeod Veterinary Hospital is to provide the best possible health care in a professional and compassionate manner.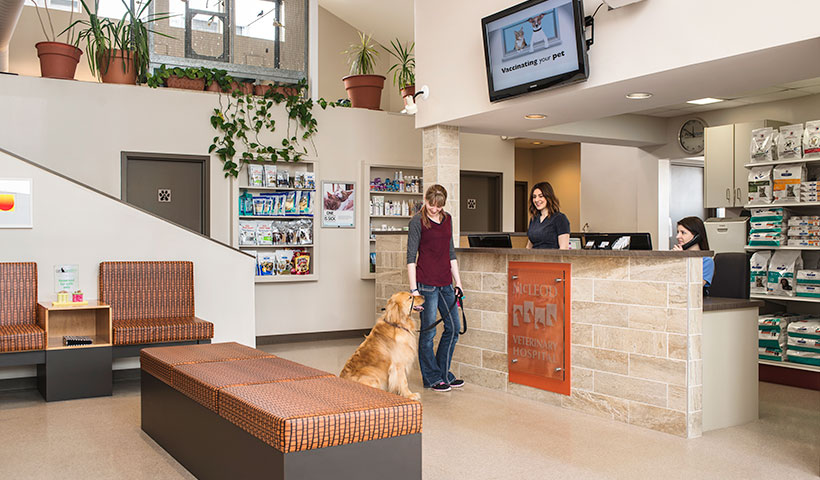 What's New?
Staff Spotlight
Dr. Alison Bowles
(Learn More)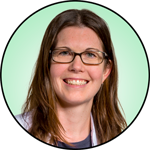 Dr. Alison Bowles graduated in 1998 with a Bachelor of Science degree from the University of Manitoba and then in 2002 from the Western College of Veterinary Medicine.

Dr. Bowles grew up in Winnipeg with two brothers and a sister. She has always filled her life with pets and knew from a very young age that she wanted to work with animals. During her years at veterinary college, Dr. Bowles met and fell in love with her husband, who is also a veterinarian. She started her career at McLeod Veterinary Hospital the summer after her graduation from veterinary medicine.

When she's not at work, Dr. Bowles spends her spare time with her husband and 2 children. Her family pets include a Golden Retriever; Téa, and cat Kallie. She spends a lot of time out at her family's cottage and also enjoys camping. Dr. Bowles enjoys baking and photography and keeps busy attending her children's soccer games, dance classes, and hockey games.
(Close Article)
Meet Dodge
Dodge is an adult male Shepherd mix currently in foster care though Manitoba Mutts Dog Rescue and is available for adoption.
(Meet Dodge)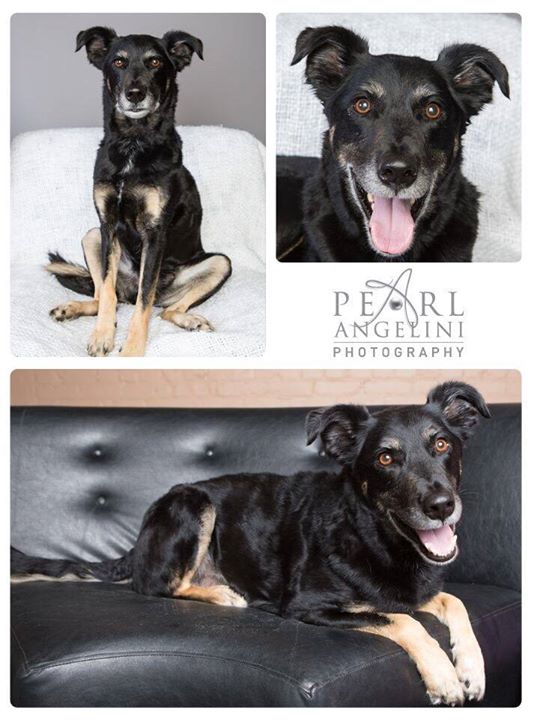 Dodge is good with kids and loves to snuggle. He is not crate trained yet but has been very good at his current foster home and is fully housetrained. Dodge loves exploring and going for walks but does require some leash training. He is a pretty laidback fellow but does require some time to warm up to other dogs.
Do you have room for this handsome boy in your family?
For more information about Dodge and the other pets available for adoption through Manitoba Mutts Dog Rescue visit their website at www.manitobamutts.org or contact them at
(Close Article)
Meet Doris
Welcome to the McLeod family, Doris!
(Meet Doris)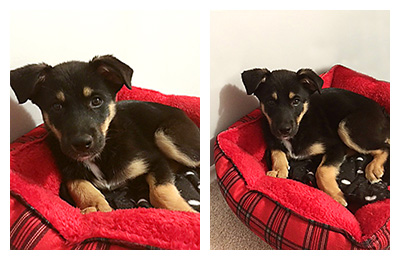 Meet Doris, formerly known as Thelma from the Outlaw litter at Manitoba Mutts Dog Rescue. Doris' mother was pregnant when she arrived in foster care and she is one of 9 puppies! Doris has been adopted by Ashley, a receptionist at McLeod Veterinary Hospital. She adores her cat brother Niklaus and loves to keep big sister Ginger on her toes.

Welcome to the McLeod family, Doris!
(Meet Doris)
Make Friends with Feliway
Introducing Feliway Friends
(Learn More)
Introducing Feliway Friends, a synthetic pheromone which mimics the calming pheromones released by mother cats while nursing. The natural purpose of this pheromone is to relax the kittens and help bond them to their mother.
Available in a convenient plug-in diffuser, Feliway Friends is a great addition to multi-cat households to reduce tension and aggression. Each diffuser covers a 750 square foot radius and starts working within 24 hours. For best results, your Feliway Friends diffuser should be plugged in where your cats spend most of their time.
For more information on Feliway Friends and other Feliway products, contact the veterinary team at McLeod Veterinary Hospital.
(Close Article)
Dental Cleaning from Start to Finish
Brushing teeth is not something your pet can do for themselves
(Learn More)
Brushing teeth is not something your pet can do for themselves and isn't manageable for every pet. Regular dental cleanings and oral preventive care is important in managing periodontal disease and keeping your pet healthy.
Dental cleanings start with a visit to your veterinarian. A thorough examination will allow the veterinarian to determine the overall health of your pet and allow a general assessment of their oral care needs. It's impossible to clean a pet's mouth thoroughly without the use of general anesthetic. You will then be provided with an estimate for a dental cleaning.
The morning of your pet's dental cleaning a Veterinary Technician will admit your pet into the hospital and walk you through the proceedings of the day. You will then be required to sign an authorization sheet for all services to be performed.
Your pet will have a brief exam prior to administering medication to prepare them for anesthesia. A veterinary technician will check your pet's heart, lungs, hydration, mucous membrane color, and temperature. At this point, a sedative/pain relief injection will be given to your pet. This injection will help to calm them and allow lower doses of gas anesthesia to be used throughout the dental procedure. Once the sedation has taken effect, a blood sample is drawn to ensure that your pet's major organs are functioning well and that there are no health concerns prior to anesthesia.
Your pet will receive intravenous (IV) fluids throughout the anesthetic procedure. IV fluids help to maintain hydration, aid in maintaining stable blood pressure, and provide an ideal route for administering medications. IV fluids are introduced just prior to inducing anesthesia and are removed upon recovery.
Your pet's heart rate, respiratory rate, blood pressure, and anesthetic depth will be continually monitored throughout the anesthetic procedure.
Once anesthetized, your pet's oral cavity and all teeth will be examined and probed, and abnormalities will be noted on a dental chart. Each tooth will then be cleaned and polished on all surfaces and below the gum line. This process is not possible without the use of general anesthesia.
When abnormalities are found, x-rays are taken of the affected tooth/teeth to further investigate its appearance below the gum line. Sometimes a tooth may look healthy on the outside but x-rays may reveal extensive damage to the part of the tooth that lies beneath the gums. If x-rays reveal dental disease the tooth may be extracted.
When all the teeth have been cleaned and problems within the mouth have been addressed, your pet will be recovered from the anesthetic. It may take a few hours for your pet to be up and ready to move around. We allow our anesthetic patients to recover for several hours prior to sending them home.
When you return to pick up your pet following a dental cleaning, a veterinary technician will take time to discuss aftercare instructions specific to your pet and their health requirements.
Oral care is a vital component to your pet's overall health. Your pet relies on you and your veterinarian to establish an oral preventive care regimen specific for their oral health needs. Regular professional dental cleanings and preventive care help your pet live a long, healthy life. Discuss your pet's oral health needs with the veterinary care team at McLeod Veterinary hospital.
(Close Article)