Monday - Thursday
8:00 am to 7:00 pm

Friday
8:00 am to 6:00 pm

Saturday & Sunday
8:30 am to 3:00 pm
Email Mcleod Veterinary Hospital
Schedule Appointment with McLeod Veterinary Hospital
Like us on Facebook
Read reviews or write your own of
your experience at McLeod Vet Hospital.


Notice: Holiday Closures
McLeod Veterinary Hospital will be closed on the following days:
November 11, 2020
December 25-26, 2020
January 1, 2021

Notice: McLeod Veterinary Hospital hosts regular Canadian Animal Blood Bank (CABB) donor clinics. For information about upcoming donation dates and to find out if your pet is an eligible donor, contact us at 204-661-3334 or visit www.canadiananimalbloodbank.ca
Welcome
to McLeod Veterinary Hospital. McLeod Veterinary Hospital was established in 1982, in Winnipeg Manitoba, by Dr. Bob Newfield. Since that time, our facility has been continually evolving to provide you with the most up to date equipment and techniques. As our patients cannot speak for themselves, client/doctor communication is essential. The purpose of this website is to enable our clients to familiarize themselves with our services and policies. Our mission at McLeod Veterinary Hospital is to provide the best possible health care in a professional and compassionate manner.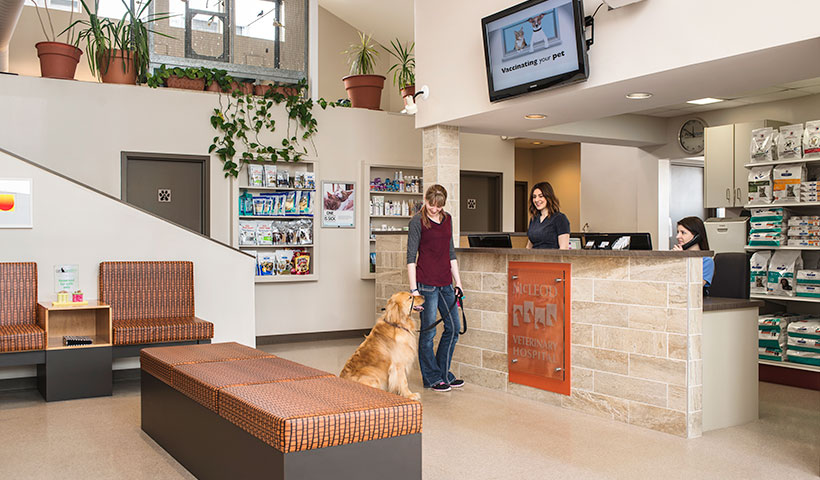 What's New?
Staff Spotlight
Angelu Borjal
(Learn More)
After welcoming Angelu to our practice for a practicum with Red River College, she was asked to join the McLeod Veterinary Hospital Team in May 2020 upon graduation. Angelu shares her home with her boyfriend and a lovely little shih tzu named Wacky. In her free time, Angelu enjoys cooking and taking care of her many varieties of house plants.
(Close Article)
What is Blastomyces spp?
Pet owners beware
(Learn More)
Blastomyces spp. is found in the Midwestern US and around the Great Lakes in Canada (including the Kenora region). It is a fungus that lives in the soil and in decaying wood. Blasto will thrive in areas that are moist and removed from sunlight; such as riverbanks, swamps, and near lakes.
Dogs will contract blasto by inhaling airborne fungal spores after contaminated soil is disturbed. This can be achieved through digging or an act as simple as following a scent trail. If pets have wounds on their body, the fungus can also enter through the skin.
Blasto will most commonly manifest itself in the lungs, eyes, or skin. In severe infections the fungus can spread to other areas of the body. There are a few diagnostic tests for blast that can be performed. Most commonly veterinarians will require a urine test which will identify if a blasto antigen is present. Chest radiographs and microscopic analysis of material coming from skin sore can also be performed. Once diagnosed, the fungal infection can be treated with antifungal medication, such as itraconozole. Depending on where the fungus has manifested, your dog may also require antibiotics to combat secondary infections. Dogs should be treated for a month after symptoms have regressed, so treatment can be lengthy.
Symptoms of blastomycosis are: fever, loss of appetite/weight loss, coughing/difficulty breathing, eye discharge and redness, difficulty breathing and skin lesions (often filled with pus). Diagnosis may be difficult as it may be mistaken for other problems or disease processes. Be sure to notify your veterinarian of any traveling you do with your pet within infected areas.
Though blasto can infect both pets and people it is not considered zoonotic (transferable between animals and people).
(Close Article)
Is this an Emergency?
How to know when to call your veterinerian
(Learn More)
Pet owners often hesitate before calling their veterinarian or put off making an appointment when they are unsure of the seriousness of the situation. Here are a few examples of situations which are considered emergencies and should be seen right away.
Difficulty passing urine or inability to urinate is a potentially life threatening problem and getting your animal to a veterinarian is of extreme importance. Urinary obstruction tends to occur most frequently in male cats as they have a naturally long and narrow urethra which obstructs easily. Animals with urinary obstructions may pass small amounts of bloody urine or no urine at all. It is easy to confuse constipation concerns with urinary issues in cats.
Any type of injury to the eye, no matter how small, can quickly become a serious problem. If your animal is blinking more than normal or squinting excessively, rubbing or pawing at its eye, the eye appears
red or has an abnormal discharge, making an appointment to see your veterinarian as soon as possible could be a sight-saving decision.
Physical trauma, like a fight with another animal or being hit by a vehicle may seem like obvious emergencies but what if your animal appears to be free of visible injury? The immediate effects of internal injuries can be masked by adrenalin, so although your pet may seem fine, it can take up to 48 hours for signs of injury to appear. In the event of physical trauma, a visit to your veterinarian can help determine if there is more injury than meets the eye.
(Close Article)