Monday - Thursday
8:00 am to 7:00 pm

Friday
8:00 am to 6:00 pm

Saturday & Sunday
8:30 am to 3:00 pm
Email Mcleod Veterinary Hospital
Schedule Appointment with McLeod Veterinary Hospital
Like us on Facebook
Read reviews or write your own of
your experience at McLeod Vet Hospital.


Notice: Holiday Closures
McLeod Veterinary Hospital will be closed on the following days:
July 1, 2020 – Canada Day
August 1-3, 2020
September 5-7, 2020

Notice: McLeod Veterinary Hospital hosts regular Canadian Animal Blood Bank (CABB) donor clinics. For information about upcoming donation dates and to find out if your pet is an eligible donor, contact us at 204-661-3334 or visit www.canadiananimalbloodbank.ca
Welcome
to McLeod Veterinary Hospital. McLeod Veterinary Hospital was established in 1982, in Winnipeg Manitoba, by Dr. Bob Newfield. Since that time, our facility has been continually evolving to provide you with the most up to date equipment and techniques. As our patients cannot speak for themselves, client/doctor communication is essential. The purpose of this website is to enable our clients to familiarize themselves with our services and policies. Our mission at McLeod Veterinary Hospital is to provide the best possible health care in a professional and compassionate manner.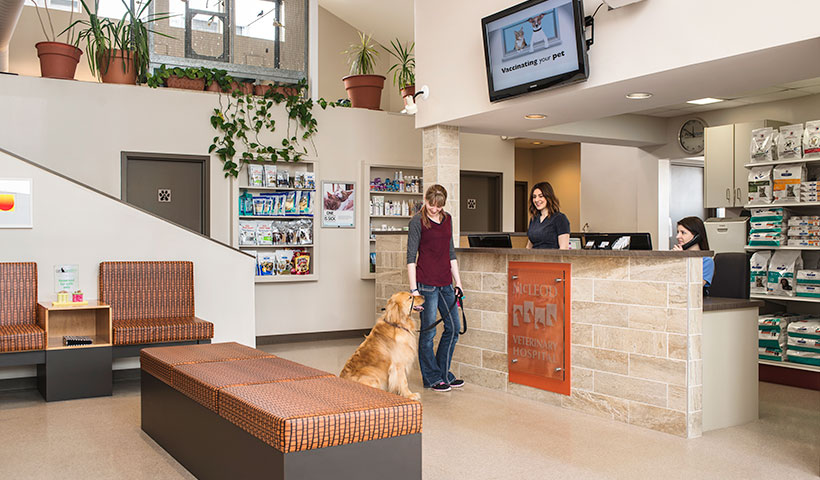 What's New?
Staff Spotlight
Dr. Emily Martens
(Learn More)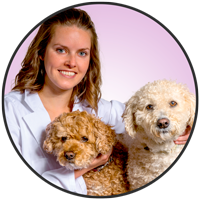 Dr. Martens graduated from the Western College of Veterinary Medicine in 2016. She grew up in Winnipeg and has known from a very young age that she would pursue a career in veterinary medicine.
Dr. Martens spends her free time at the lake with her dogs Charlie, Molly, and Seymour. Her hobbies include hiking, running, and yoga.
(Close Article)
Cannabis
Accidental Ingestation By Our Pets
(Learn More)
With the legalization of cannabis, care must be taken to eliminate accidental ingestion and potential toxicity in pets. Signs of ingestion may include; lethargy, disorientation/loss of coordination, dilated pupils, increased vocalization, respiratory depression, and a drop in body temperature. In severe cases, tremors, seizures, and coma may result. Cannabis should always be stored out of reach of pets. Notify your veterinarian if there is the possibility your pet ingested any form of cannabis so they can be treated appropriately.
CBD (cannabidiol) oil is becoming a hot topic of conversation in veterinary medicine. While these products may prove to have valuable therapeutic benefits, there currently is not enough scientific research to support safety, dosing recommendations, or treatment protocols in pets.
(Close Article)
Heartworm Testing
Protect Your Pet
(Learn More)
The return of pesky mosquitoes and wood ticks means the time has come to have your dog's blood tested for heartworm and tick-borne diseases.
Diagnosis of heartworm and tick-borne diseases, including Lyme disease, has become much easier in recent years and requires only a small blood sample from your canine friend. Samples are run in hospital on a daily basis and results are quickly available.
Frequency of testing can vary depending on lifestyle. Dogs with little to no exposure to wood ticks receiving regular monthly heartworm prevention should be tested at least every second year. Dogs with heavy exposure to wood ticks would benefit greatly from yearly testing to ensure that they're clear of tick-borne infections.
Thankfully, prevention and protection against these deadly diseases are available in various forms. Your veterinary team would be happy to assist you in choosing an appropriate preventative medication to suit your dog's individual lifestyle.
Contact our veterinary team to schedule your dog's blood test and discuss prevention options today.
(Close Article)
Ticks Are Coming Back
It's That Time of Year Again
(Learn More)
March marks that time of year we should start paying attention to the temperature outside. Ticks are a concern for every dog in Manitoba and start becoming active once the temperature reaches 5oC for 5-7 days. The most common types of ticks in our province carry diseases which can be transmitted to your dog, including lyme disease. Traditionally thought to be present only outside the city, an increasing number of dogs within city limits are becoming infected. Dogs limited strictly to their back yard and neighbourhood are at risk of picking up these little bloodsuckers.
The McLeod Veterinary Team can help you determine which product would be most appropriate for your furry companion.
(Close Article)