Monday - Thursday
8:00 am to 9:30 pm

Friday
8:00 am to 6:00 pm

Saturday & Sunday
8:30 am to 3:00 pm
Email Mcleod Veterinary Hospital
Schedule Appointment with McLeod Veterinary Hospital
Like us on Facebook
Read reviews or write your own of
your experience at McLeod Vet Hospital.


Notice: Open 7 days a week.
Notice: McLeod Veterinary Hospital hosts regular Canadian Animal Blood Bank (CABB) donor clinics. For information about upcoming donation dates and to find out if your pet is an eligible donor, contact us at 204-661-3334 or visit www.canadiananimalbloodbank.ca
Welcome
to McLeod Veterinary Hospital. McLeod Veterinary Hospital was established in 1982, in Winnipeg Manitoba, by Dr. Bob Newfield. Since that time, our facility has been continually evolving to provide you with the most up to date equipment and techniques. As our patients cannot speak for themselves, client/doctor communication is essential. The purpose of this website is to enable our clients to familiarize themselves with our services and policies. Our mission at McLeod Veterinary Hospital is to provide the best possible health care in a professional and compassionate manner.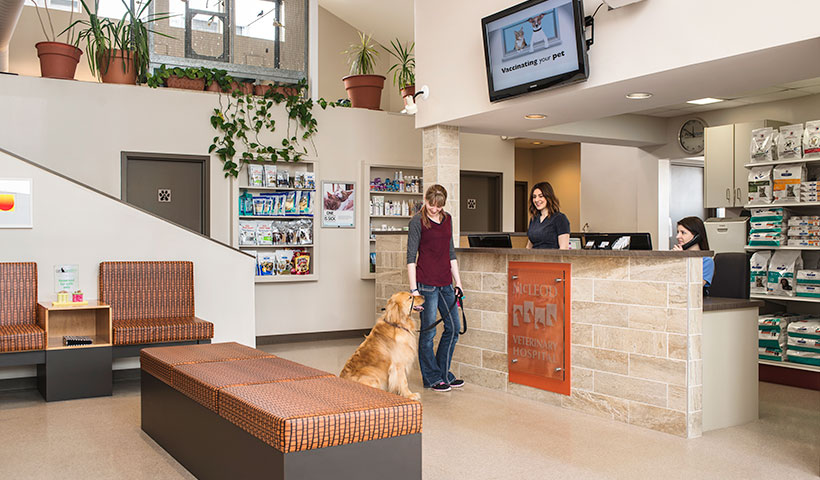 What's New?
Staff Spotlight
Cindy Sontag
(Learn More)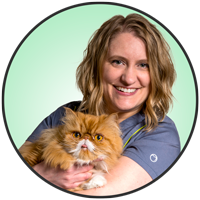 Cindy Sontag has been employed by McLeod Veterinary Hospital since graduation from the Veterinary Technician program at Red River College in 2002. In recent years, Cindy returned to Red River College to complete the Management Development program. As Hospital Manager, Cindy not only performs regular technician duties, but also ensures that our facility runs as smoothly as possible. Cindy is the current Past-President of the Manitoba Veterinary Technologists Association and sits on the national RVT association (RVTTC) board of directors.
Cindy shares her home with a Persian cat named Oscar. In her spare time, she enjoys travelling, camping, and cheering on the Winnipeg Jets!
(Close Article)
Declaw Ban!
As of May 2019, the act of declawing cats has officially been banned.
(Learn More)
As of May 2019, the act of declawing cats has officially been banned in the province of Manitoba. Manitoba is the sixth Canadian province to have banned declawing in recent years.
Declawing involves the surgical removal/amputation of the front nails at the first joint of the toe. The act of declawing has been performed primarily to prevent damage to household furniture due to marking behaviours, as well as preventing scratching of humans and clothing.
Some alternatives to declawing may include frequent nail trims, plastic nail caps, and scratching posts. Some cats may prefer one type of scratching post over another and may require time and multiple options to learn appropriate scratching around the household.
For more information on deterring cat scratching in your home, contact your veterinary team at McLeod Veterinary Hospital.
(Close Article)
Kennel Cough
Be Aware of the Signs.
(Learn More)
Kennel cough is a highly contagious canine infectious respiratory disease characterized by a dry hacking cough. The virus is aerosolized into the surrounding environment each time an infected dog coughs, resulting in wide spread contamination. Dogs frequenting boarding kennels, obedience classes, off-leash parks, daycares, grooming salons, and any facility with heavy canine traffic flow are often amongst those infected.
The signs of kennel cough typically occur within 2-14 days after exposure. Kennel cough infections can range from mild and brief, to more serious and complicated. Immunocompromised dogs, such as puppies, geriatrics, and debilitated pets are especially vulnerable to serious infections.
Uncomplicated cases of kennel cough can last anywhere from 1-2 weeks and are characterized by a mild dry, hacking cough and no other symptoms. These dogs are usually otherwise active, continue about their regular daily routines, and do not require medication to recover. Affected dogs can however, continue to shed the virus for multiple weeks following infection therefore it is recommended they be kept away from other dogs during this time.
Complicated or more serious cases can last much longer and may result in a productive cough (producing greenish phlegm), lethargy, inappetence, and respiratory complications. These cases require medication and close monitoring and can take weeks to resolve.
There is a vaccination available for the prevention of kennel cough. Bordetella is an annual vaccination which can be given as early as 8 weeks of age. Bordetella is given orally and tolerated well by the vast majority of dogs.
For questions regarding your dog and preventing kennel cough, contact your veterinary care team at McLeod Veterinary Hospital.
(Close Article)
Fiber For Your Pet?
Pumpkins, Apples, and Sweet Potatoes, Oh My! Adding fiber to your pet's diet.
(Learn More)
Has your veterinarian recommended adding canned pumpkin to your pet's food? Insoluble fiber, cellulose, found in pumpkins is indigestible and can provide many benefits for our pets. Cellulose helps to create bulk by absorbing fluid and encouraging movement of food through the intestinal tract. The bulk produced may help create a feeling of satiety which may, in turn, aid in weight loss in certain cases. This is why veterinarians will sometimes recommend adding pumpkin to a pet's diet when they suffer from soft stool.
Apples and sweet potatoes have a similar fiber content and may be a tasty alternative for pets who don't enjoy the taste of pumpkin. Apples have a higher natural sugar content than pumpkins which may make them a more desirable additive for some pets. The added sugar can however make apples a poor choice for pets with certain medical conditions. Sweet potatoes are packed full of vitamins but also a higher calorie snack for pets struggling with weight problems.
It can be enjoyable to share these special treats with your furry friend but always be sure to consult your veterinarian before trying something new.
Contact your veterinary team at McLeod Veterinary Hospital for more information about adding fiber to your pet's diet.
(Close Article)